Which Ebike To Buy: Buy The Dyu King 750 Ebike for 5 Reasons
Are you looking for an affordable electric fat bike that delivers a powerful performance, a comfortable ride, and a long battery life? Look no further than the DYU King 750, the latest innovation from the renowned brand of smart electric bikes, DYU. With so many ebikes on the market, it can be tough deciding which one is right for you and your budget. If you're looking for recommendations on affordable ebikes under $1500, check out our guide here.
In this comprehensive article, we'll explore the 5 key features and benefits of the DYU King 750 ebike to show why it's an excellent choice in 2023.
Overview of the DYU King 750
The DYU King 750 is an electric fat tire bike equipped with a 750W motor and 26" tires for incredible power and traction. Its sturdy aluminum alloy frame combined with front suspension absorbs shocks to create a smooth ride across various terrains.
Some key specs and features include:
Robust 750W motor provides speeds up to 45km/h
Large 26" x 4" fat tires for stability and traction
48V/20Ah LG lithium battery for up to 80km range per charge
Aluminum alloy frame resists corrosion and keeps weight low
Adjustable front suspension smoothens bumps and shocks
Bright LED headlight and brake lights for visibility and safety
8-speed Shimano gearing for optimal pedaling efficiency
Large color LCD display shows battery level, speed, distance travelled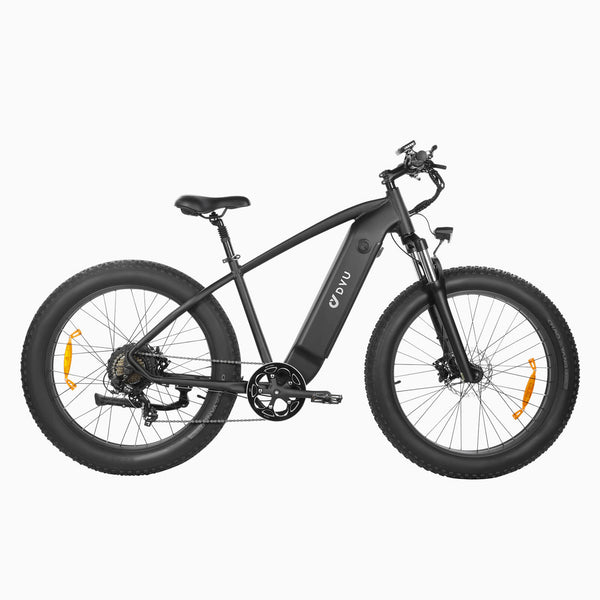 Power and Performance
The DYU King 750 comes equipped with a powerful geared hub 750W motor that delivers an impressive 45km/h top speed and superior hill climbing ability.
Hub drive motors are positioned in the center of the rear or front wheel for better balance and weight distribution. The 750W motor provides abundant torque and acceleration, allowing riders to conquer inclines and rugged trails with ease.
Higher wattage motors like the 750W mean you get more torque and speed compared to 250-500W motors common in entry-level ebikes. But more power also requires more battery energy, so factor in your typical riding terrain when deciding on motor wattage.
Ultimate Traction and Control with Fat Tires
Fat tire ebikes like the DYU King 750 are built for stability and traction thanks to their oversized tire width.
The 26" x 4" fat tires offer a cushy ride across bumpy terrain and excellent shock absorption. Their wide contact patch grips everything from snowy roads to sandy beaches.
The aggressive tread pattern further enhances grip on mud, dirt and gravel. Fat tires self-balance better than narrow bike tires, providing confidence for beginners. DYU King 750 riders will feel secure navigating hilly trails and tough conditions where skinny tires would falter.
The DYU King 750 features 26-inch fat tires that can handle any terrain, from sand to mud to snow. This means you can take your e-bike off-road and explore new terrains with ease.
There are more benefits about fat tires electric bike: Fat Tire Ebikes Vs Traditional Bikes: How Do These Two Riding Experiences Compare?
Durable Frame and Suspension
The DYU King 750 features a durable aluminum alloy frame designed for longevity across rugged terrain. Aluminum balances durability with lightness to keep overall ebike weight manageable.

Front suspension smoothens out bumps and jolts when riding over uneven ground. This enhances control and protects sensitive electronic components from damage. The suspension fork is adjustable to suit different rider weights and terrain types.

Integrated brake and gear cables give a sleek look while protecting the wires from weathering. The kickstand and chainguard minimize wear over time, ensuring your ebike lasts long term.
Optimized Battery Life and Range
DYU equips the King 750 with a high-capacity 48V/20Ah LG lithium battery to deliver outstanding range. Riders can expect up to 80km on a single charge thanks to the ample 20Ah battery rating.
The battery uses advanced LG cells known for their long lifespan and temperature resilience compared to generic cells. Recharging the battery from zero to full takes around 4 hours with the fast charger.
Pro tip: Store batteries indoors when possible, charge regularly, and avoid draining completely to maximize battery lifespans. See our ebike battery care guide for more maintenance tips.
The estimated 80km range gives you the freedom to venture farther between charges. Zip around town all week or explore nature trails on weekends with confidence in the DYU King 750's battery endurance.
Design
The DYU King 750 has an aluminum frame that is lightweight and durable, and a suspension fork that absorbs shocks and bumps. This makes for a smooth and comfortable ride, even on bumpy terrains.
If you want an ebike that folds down for easy storage and portability, our guide on the best folding ebikes is a great resource.
Smart Display and LED Lights
A color LCD display integrated into the handlebars provides key ride data at a glance. It shows your current speed, battery level, riding mode, distance covered and other stats. Backlit for nighttime visibility, the display lets you monitor your ebike status in any lighting.
Bright LED headlights and taillights come standard on the DYU King 750, ensuring visibility and safety when riding after dark. Make sure to angle the headlight correctly to illuminate the road ahead without blinding oncoming traffic. The battery powers the long-lasting LEDs so you won't be left in the dark.
The DYU King 750 comes with an LCD display that shows speed, battery level, distance, and other useful information, as well as a thumb throttle that allows easy acceleration. This makes for a user-friendly experience that anyone can enjoy.
For women looking for an ebike designed specifically for their needs, be sure to read our recommendations on the best ebikes for women in 2023-2024.
Final Verdict on the DYU King 750
From off-road adventuring to daily commuting, the DYU King 750 is one of the best value and performing electric fat tire bikes available today. Its 750W motor, fat tire traction, 80km range battery and quality construction make conquering hills and all kinds of terrain a breeze.
Want to learn more about ebikes? Check out our in-depth guides on topics like compact folding ebikes, torque sensor ebikes, and more using the links above.